An artistic rendering of what my eyes look like right now after having my biennial eye exam: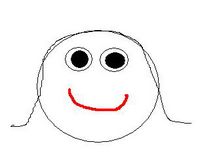 P.S. If anyone needs an extra contact case, let me know. The guy gave me 8 of them. I'm not even exaggerating. If you want one I'll autograph it for you and send it out. What-my autograph's gotta be worth like 3 cents on eBay.
P.P.S. How gross is that post title. Seriously.