Some people like to mow their lawn in the spring. Apparently my landlord is not one of them: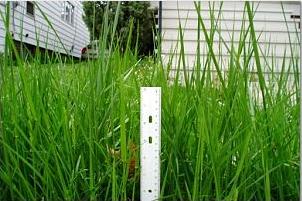 That is a standard 12 inch ruler. This lawn plus the Christmas lights that I still have up (I don't turn them on, but they're still up and highly visible during daylight hours) only serve to further the look I'm trying to go for with my apartment which is a mix of "White Trash" and "I Am The One Who Is Bringing Down Your Property Value".
P.S. I just realized that my parents are reading my blog now, and in one of my
earlier posts
I told the entire Internet that if they came and slept in my bed I would let them touch my boobs over my shirt. Nothing about that is embarrassing.