But it won't be this weekend.

We are making our annual trek to Put In Bay Island, OH. PIB is an island on Lake Erie that's about an hour and a half drive and a 20 minute ferry ride away. We go every year and stay in a cabin which we ultimately destroy. If you take a look at their web site, it would seem Put In Bay is a great place to take the family. And it is. When we are not there. When we are there this is usually how things end up: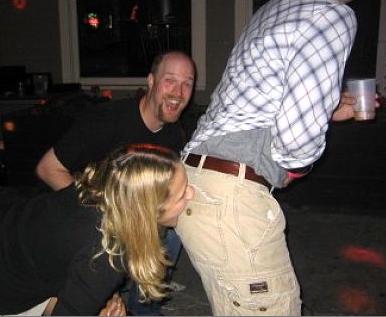 It's not pretty is it. For those of you with a sharp eye, you are right-that is not me. That is my baby sister. She really makes us proud. I don't even think we know that guy. Just kidding. That's her boyfriend Drew. Can't you tell by his hot ass? That's our friend T in the background. There are tons of pictures of his naked ass floating around, but I will not post those here for the sake of your eyesight.

At any rate, I hope you all have great weekends. Pray for my liver.