So since my condo is in pretty good shape and I'm almost done, I thought I would begin to show you what it looks like. Today's feature is the bedroom or, as I call it, The Magic Den.

The pictures don't really do it justice because it is so big, and has a vaulted ceiling, but you will get the idea. Also I am not what scientists might call a "decorator" so don't expect greatness in that arena. But I think it looks pretty so poo on you.

#1: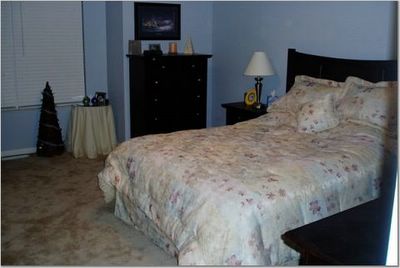 This is standing in my doorway looking in. I swear the blue on the walls is not really that bright. In case you can't tell, my furniture is effing awesome and beautiful. The yellow picture frame on my nightstand is a picture of my puppy Henry. He is amazing. That thing that looks like a Christmas tree is basically a Christmas tree. It's a grapevine tree with lights and ribbon on it and stuff. It is the single most creative thing I have ever done in my entire existence.

#2: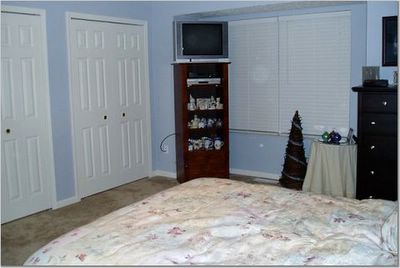 This is standing in a corner of my room looking at the TV. Yes, I know it is very high. That is on purpose. I hate when I'm lying in bed, and I have to bend my windpipe in half just so I can see a TV that is too low. This is at a perfect height so I can just lay there and look at it. I am a genius.
Underneath the TV is a bunch of Precious Moments and some other collectibles. It doesn't look as trashy in person as it does in this picture. But yes-that is the cable cord you see behind the TV. It looks like shit, but I really don't care. In this picture you can also see one of my closets. I have another just like that one which are connected inside so it's one long closet. Then next to that one I have ANOTHER closet. It's a virtual wall of closets. Well, it's not so much virtual as it is an actual wall of closets. Also see those blinds? John put those up while high on painkillers after having his nuts chopped off.

#3: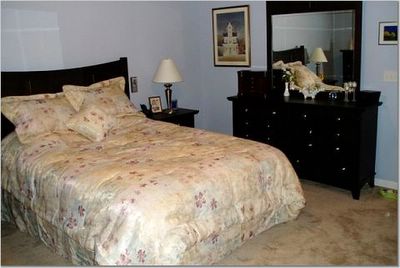 This is the view from my TV. That's closer to the real blue of the walls. Blue is my favorite color, and there will never be a day again that I will have a bedroom that is not blue.

So you guys can better imagine me in my condo, I have superimposed a picture of myself over this one to give you the idea. Here I am on The Workbench giving you my bedroom eyes and best come hither look:




You know you want it.

Oh my God I cannot stop laughing at that picture I just made. That is the worst thing I have ever seen.