Does anybody know how to get tape residue off of human skin? I have taken numerous showers since my surgery yet still the tape residue remains. I mean it is literally all over my body in a grid-like pattern. Here is an artistic rendering: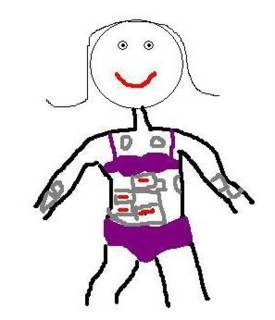 The red marks are my incisions and all the gray is the outline of tape residue. This is actually uncomfortably similar to what it looks like on my body. And yes I'm aware that it looks like I have a bulge in this drawing. Stop making fun of me, or I will talk more about catheters.
Holy crap I am hot. How do I not have a boyfriend.